Let's Talk About the "Hog Trial"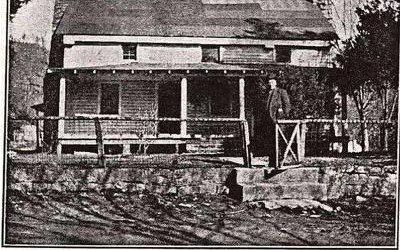 Let's talk about the infamous "hog trial," which is said to have been conducted in the front parlor of the  house seen here.  I have been in that room many times, and talked at great length with the man seen in the photo, Uncle Ransom Hatfield, who lived there all his life. He was the son of the presiding justice, Preacher Anderson Hatfield, who was my great-great-grandfather, on both sides. I delivered the Williamson Daily news to Uncle Ransom from 1952-55, and talked with him at least once a week about "the feud."
The first question is: Was there a hog trial, or is it just another "feud fable?" Yes, even though there are no documents proving it, there was a hog trial, wherein Ran'l McCoy claimed that Floyd Hatfield had Ran'l's hog.  The dispute was settled before Preacher Anderson Hatfield, Justice of the Peace. While I never talked to anyone who was there, I talked to several people who were alive at the time, and all remembered hearing about the hog dispute from childhood.  I think it will be interesting to examine it to see just how much of the story is obviously made up, and how much is likely true. Of course the most detailed description, as with all of the "feud stories" is from Dean King, so I will parse his words in detail as we go along.
First, take a look at the photo. There were two rooms in the front part of the house; the room where the trial took place is on the left as you look at the photo. It was about the size of the average Holiday Inn Express room. So, first, we must populate that room, according the description given by Mr. King.
The first problem we encounter is that King has the trial in February, when it was actually in the fall. In February much of the room is out of play for seating people, due to the roaring fire in the fireplace. With that useless area in mind, we first seat the justice, with a table in front of him, a jury of twelve, a plaintiff and a defendant and a witness. We now have sixteen men seated in that room, one with a table in front of him. Are we getting crowded yet?
I know you are feeling a little crowded, with sixteen men seated in that room, considering that one wall and several feet in front of the fireplace is unusable, but you ain't seen nuthin' yet! King says that "Randall jumped up and launched into a furious tirade, railing against all of the Hatfield witnesses, whom he accused of lying."(p. 56.) Since King said that "witness after witness" had testified, and he has them still in the room for Ran'l's tirade, we now have at least two dozen people in the room. If you think the air is a little stuffy, join the club.
King says that witness Bill Staton "Lunged at him(Randall)," during Ran'l's abusive tirade. King, having substituted Bill Staton, Sr. as the witness, in place of Bill Staton, Jr., who actually was the witness, now has the septuagenarian Staton, Sr., "lunging" at the fifty-some Ran'l McCoy. But the old man Staton is foiled at his attempt to get at Ol' Ran'l, because "Randall's sons were faster and seized Staton before he could strike their father."(p. 56).
Adding an unspecified number of Ran'l's sons exacerbates the crowded conditions in the room. As King does not give the number, and he uses the plural, we will cut him some slack and say that there were only two of Ran'l's sons in the room. But, if the judge allowed two McCoy sons, he would have been obliged to allow at least that many of Floyd's close relatives to sit in. we now have nearly thirty men in the Preacher's parlor, with one side of the room unusable due to the fire in the fireplace.
Mr. King seems to have an irrepressible urge to show his readers that he knows the minutest details. This sometimes runs him afoul of actual records that show him to be prevaricating. For example, he says that Preacher Anse was "age fifty-seven." (p. 54) The record shows that Preacher Anse was born in 1835, meaning that he was either thirty-eight or forty-three at the time, depending upon which of the two Kentucky "historical markers" you accept for the date of the hog trial. One says 1873, and the other says 1878.
King says that the defendant, Floyd Hatfield, who was a neighbor of several McCoys at Stringtown on the Kentucky side of the Tug, lived in West Virginia. Is King really unaware of the simple fact that if Floyd Hatfield had lived in West Virginia, he would have been out of reach of Preacher Anse's little court in Kentucky? A Justice of the Peace does not try a federal case–then or now.
We can't go on with the trial with more than two dozen men in that room, given that one entire wall is unusable due to the fire in the fireplace. Forcing some of the men out into the yard would not be unreasonable, as there are many, many people out there in the cold already. King says: "both sides showed up in force for the trial."For the Hatfields, King has "Chafins, Ferrels, Mahons, Vances and Statons." For the McCoys, King has in Preacher Anse's cold front yard "Colemans, Gateses, Normans, Sowards, and Stuarts." (p.55) Since the 1880 Census shows no one named either Gates, Sowards or Stuart living anywhere on the "backside" of Pike County, King would have us believe that many men rode from as far away as Pikeville to lend moral support to Ol' Ran'l in his quest for the pig. I know that most readers will doubt that someone would ride all night through the February cold, just to get to Blackberry Creek to see who got the pig, but, you must remember that this is written by Dean King, the world's foremost authority on the Hatfields and McCoys, so you just gotta accept it. Accept it and then try to help me clear some of the people out of that room, so we can go on with the trial.
King says: "the jury of twelve, being evenly split between Hatfields and McCoys, neither side could complain of a stacked deck…"(p. 56) We are asked to believe that Devil Anse had some interest in the case, and having an equal number of people named Hatfield on the jury might placate Devil Anse if Floyd lost. How could the presence of six Kentucky Hatfields, who were mostly former Unionists, Republicans, supporters, parishioners, and close relatives of Preacher Anse reassure the West Virginia ex-Rebel and Democrat, Devil Anse, if he had an interest in the case?
Devil Anse's attitude toward the hog trial was no doubt total unconcern. During the decade of the hog trial, Devil Anse was in a lawsuit with Colonel John Dils, foster father of both Perry Cline and Frank Phillips,which involved several thousand dollars and brought Anse to the brink of bankruptcy. He was  in another suit against Perry Cline contesting ownership of five thousand acres of land, and one with the family of Asa Harmon McCoy involving the ownership of eight hundred acres. Devil Anse complied with the court's ruling in each case, even though they involved hundreds, if not thousands of times the value of a pig. Ran'l McCoy was involved in several cases which amounted to hundreds of times the value of a pig, yet he complied with the court's orders in every case. None of those cases started a feud.
But we are expected to believe that a feud started over a pig. Beam me up! If Devil Anse reacted to every loss by a cousin of something as inconsequential as a pig, he would have been involved in several feuds simultaneously.
Preacher Anse maintained his standing among all the families by being careful not to show partiality. He had a problem in that his Hatfield relatives were so numerous on Blackberry Creek that it was difficult to impanel a jury that did not have an outright majority of Kentucky Hatfields, much closer related to Preacher Anse than to Devil Anse. In fact, that would be the case in most randomly picked juries. Preacher Anse had far more to lose in the hog trial than did Devil Anse because the justice of the peace/preacher needed the votes of the McCoys, and many of them were his parishioners. The jury composition would have been to protect the preacher, not to placate the Devil.
Why does Dean King say that there were six Hatfields and six McCoys on the jury? I really don't know—any more than I know why he said that 1200 people attended Preacher Anse's church "on a fair day," in 1882, (p. 89)when the church only had 28 members in 1890, and the entire Association of 14 churches had barely 400 total members. Or why he said that 100 armed McCoy invaded Logan in 1880, (p. 85) when the 1880 Census shows only half that many McCoy males between the ages of 15 and 50 in the entire valley.
King pays no attention to either the Census or to the church minutes. He says what he wants to say, knowing that he has the backing of the New York publishing cartel, and the feud industry. I say that there never were 1200 people at a church service on Pond Creek. It hasn't happened in the 20th or 21st century, and it damn sure didn't happen in the 19th century–in a church with 28 members. We will solve the problem of overcrowding in Preacher Anse's parlor by paying attention to Kentucky law, and not to Dean King's fabulous tale.
A cursory look at the 1880 Census will give anyone a pretty clear picture of the difficulty one would encounter in trying to impanel a twelve-man jury on Blackberry Creek. Fortunately the legislature realized that fact, and made the proper provisions by limiting juries in Justice of the Peace courts to SIX members. Section 2252 of the Kentucky Statutes says: "A petit jury in the circuit court shall consist of twelve persons, and in all trials held in courts inferior to the circuit court, or by any county, police, or city judge, or justice of the peace, a jury shall consist of six persons; but the parties to any action or prosecution, except for felony, may agree to a trial by a less number of persons than is provided for in this section." Article 248 of the Kentucky Constitution incorporates the same requirements for juries in courts inferior to the circuit court. So, by simply complying with the law, we can cut the crowd in the Preacher's parlor down to a manageable size–ten men total, counting the jury of three Hatfields and three McCoys. Cool, huh?