Crazy Jim Vance: Did They Really Call Him "Crazy?"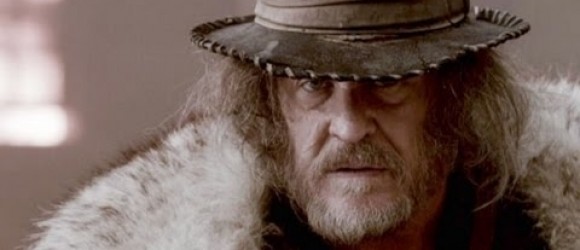 Jim Vance is "a raccoon with rabies, a psychopath, a misogynist, and throw in a pinch of Bruce Dern. That's the recipe."—Tom Berenger
Otis Rice, a full professor and the West Virginia Historian Laureate, wrote of Jim Vance: "The tall, heavy-set, dark-bearded Vance, himself a later casualty in the feud between the Hatfields and the McCoys, had a reputation, even among his rough associates, for ruthlessness and vindictiveness." The "historian Laureate" gives NO supporting documentation for his wildly inaccurate description of Jim Vance, and he had good reasons not to.  How could Rice present Vance as a ruthless and vindictive criminal when the court records show him holding the offices of constable and justice of the peace in West Virginia and deputy sheriff in Kentucky, with not a single criminal charge–not even a misdemeanor–against him in his entire long life?  Well, Rice did the only thing he could do; he omitted any reference to the record. There are more references to Jim Vance in the court records than to any other character in the feud story, and those records–unanimously–give the lie to Rice's description of the man and his character. A few of the many records are given below.
With the "Historian Laureate" providing them cover, the books emitted by the various "feud industry" writers present Jim Vance as the worst of the Hatfield gang.  That lie has permeated America from the small towns of Appalachia to Hollywood. The current industry best-seller, Dean King's "True Story," uses the moniker, "Crazy Jim" throughout.   King refers to Vance at the end of the Civil War as "even more frightening" than Devil Anse. (p.36) I have known for more than fifty years that the deeds attributed to Jim Vance in "the feud" were grossly exaggerated, and have said so. Recent research has provided me with considerable new evidence in support of this position.
If we list the four most notorious figures in the feud story on each side, we have: On the Kentucky/McCoy side–Ran'l McCoy, James McCoy, Perry Cline and Frank Phillips. On the West Virginia/Hatfield side we have Devil Anse, Johnse and Cap Hatfield, and Jim Vance.  Seven of the eight were charged during heir lifetimes with multiple felonies, including murder/manslaughter. Only Jim Vance was never charged with any crime in his life–not even a misdemeanor!
King, like most of the feud writers, presents Jim Vance as the purported murderer of Asa Harmon McCoy in 1865, saying that the sons of Asa Harmon were sworn to avenge their father's death by killing Vance. (p.39) King says that Asa Harmon was so scared of the West Virginia rebels that he abandoned his family and hid out in a cave, only to be tracked down and murdered by "Crazy Jim" Vance. (pp.37-8) This contradicts the sworn statement of Asa Harmon's widow, Patty Cline McCoy, who swore that Asa was "killed by rebels while returning to his regiment." Here is her sworn affidavit.
CLICK ON THUMBNAILS TO SEE THE COMPLETE GRAPHICS.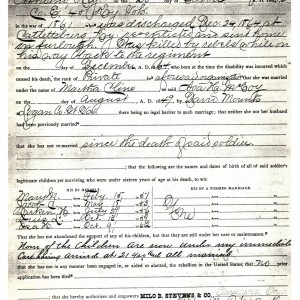 According to King, "the feud" began in 1865, with the murder of Asa Harmon McCoy, by "Crazy" Jim Vance, and continued for a quarter of a century, during which "Crazy" Jim was known as a vicious and remorseless participant.  The Jim Vance of the record contrasts sharply with King's manufactured character.
The Voters of the Magnolia district elected Jim Vance Constable in 1870.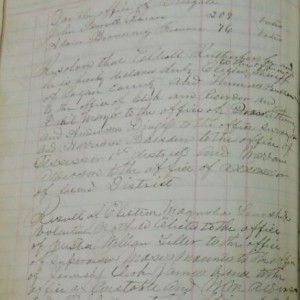 King says that Vance was a real gunslinger. Describing Vance at the time of the New Year's, 1888 raid, King wrote:"When it came to slinging a Colt, Crazy Jim was among the fastest around."(p. 179) This is said of a man for whom no record exists anywhere that he ever "slung a Colt" in his life. When Vance died a week later, court records show that his estate contained not a single handgun. King gives a footnote in this section, which says that Vance owned no land until he was in his 60's, and hated the McCoys because he had lost all his land. (p. 380, n. 21) How he could have harbored hatred over lost land, when he had not owned any is not explained.  Neither does King explain the fact that the records in Pikeville and Logan show that Vance owned several tracts of land, totaling several thousand acres, beginning as early as the mid-1850's.
One tract of land owned by Vance was 1000 acres in Pike County, bought from  the daughter of Asa Harmon McCoy, Mary Daniels.  Mary McCoy Daniels, who, according to King, believed that Jim Vance murdered her father in 1865, accepted a note from Jim Vance in 1875 for about a third of the purchase price for that large tract of land. (I have the June, 1875 deed, but it is too large to post.)
Land deals were not the only transactions between Jim Vance and the descendants of the man he is claimed to have murdered.  The record shows that, in 1875, Jim Vance's daughter married Jacob McCoy, son of Asa Harmon McCoy. The wedding took place at the home of Jim Vance, who had moved across Tug River into Pike County Kentucky that year.  The marriage bond was signed by Jacob McCoy's uncle, Perry Cline.
Mr. King does not tell us why the three brothers of Jacob McCoy, all of whom were reputed to be "bad" men, did not avail themselves of this perfect opportunity to fulfill their pledge to avenge their father's murder.
In 1875, Perry Cline became sheriff of Pike County. Cline was a brother to Patty Cline McCoy, widow of the slain Union soldier, Asa Harmon McCoy. When Cline entered office, the bond required of an incoming sheriff was signed by three men. One was Colonel John Dils, who was the richest man in Pike County and the foster father of both Perry Cline and Frank Phillips. Another surety on Cline's bond was the new arrival in the county, Jim Vance. Does any sentient reader believe that Perry Cline thought Jim Vance had murdered Asa Harmon?  Here is the record on the bond.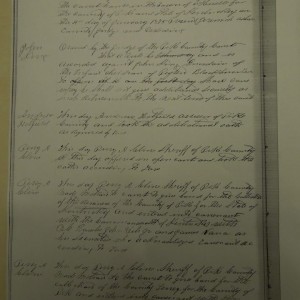 Later that same year, Perry Cline appointed Vance a deputy sheriff of Pike County, making him the ONLY man of his era who was a sworn law officer in both Logan County, West Virginia and Pike County, Kentucky. Here is the record.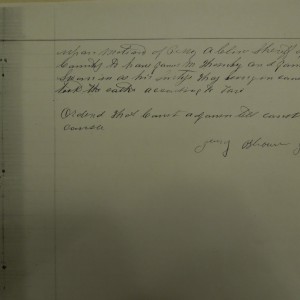 In 1883, a year after the Election Day killing of Ellison Hatfield, and the vigilante murders of his killers two days later, the Justice of the Peace for the Magnolia District of Logan County resigned.  The Logan County Court chose as his replacement, none other than Jim Vance.  The court order, from July, 1883, which is smack-dab in the middle of King's furious blood feud, is shown here: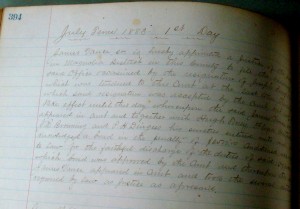 It is hard to imagine a meeting of the county court where the discussion went:
First court member: "We have to choose a new Justice of the Peace for Magnolia District. Any recommendations?"
Second member: "What about Crazy Jim Vance?"
I know that sounds "crazy," but that's what Mr. King would have us believe.
As you can see from the court order shown above, four men, neither of whom was a relative of Jim Vance signed a $2,500 bond for him, when he assumed the office.  In terms of gold, that is $150,000 in today's dollars.  Does anyone think that four substantial citizens would have risked the price of several Tug Valley farms as surety for the good behavior of a man whose prior conduct had earned him the sobriquet, "Crazy Jim?"
King has Jim Vance as the leader of the New Year's raid on the McCoy home.  Of the clubbing of Sally McCoy,  King wrote: "Crazy Jim swung the gun butt at her, breaking two of her ribs and knocking her flat." (p.191) (How King knows that in those pre-x-ray times precisely TWO ribs were broken is not disclosed)
There are four possible citations for the clubbing of Sally McCoy which are NOT simply repetitions of a previous writer's unsupported claims.
First, there is the purported confession of Charles Gillespie. I say "purported," because we have no copy of an actual confession, and have only newspaper reports of what Gillespie is said to have confessed. Gillespie said that Ellison Mounts clubbed Sally. Gillespie's purported words were: "I could not find out who struck old Mrs. McCoy with the butt of the revolver, but I think Mounts did this, too."—Wheeling Intelligencer, October 17, 1888
Second, we have the "confession" of Ellison Mounts. I use the quotation marks because it is highly doubtful that the confession is from the mouth of Ellison Mounts. To believe that the confession is genuine, one must believe that the illiterate Mounts used phrases such as "the civil authorities of Kentucky," rather than the simple mountaineer rendering of "the Kentucky law." It is doubly suspect when one considers the fact that the phraseology is exactly the same as that used by J.Lee Ferguson (the scribe who wrote down the "confession") in letters to the governor of Kentucky.
Nevertheless, in his "confession," Mounts said he thought that Johnse Hatfield was the man who clubbed Sally, although he did not actually see it. While I have the aforementioned reservations about the legitimacy of the confession, it is certainly better documentation than the unsourced writings of a previous feud story writer. This is from the Mounts confession: (Governor Simon B. Buckner Papers, Folder 16, KDLA.)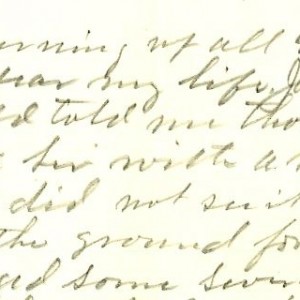 Third, we have the sworn testimony of the victim, Sally McCoy. (Pike Circuit Court, Commonwealth v Ellison Mounts, Case# 19602, KDLA.) I have some reservations about the transcript, simply because, as you will see from the graphic, it switches from first to third person and back to first person within a paragraph. That means that it is what a clerk recalled, and not a verbatim transcript. That said, it is one of the two best original sources on the matter. Sally McCoy did not know who struck her! Sally said: "SOMEONE struck me and knocked me down…"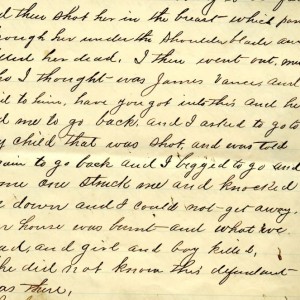 Sally swore that she was struck by "someone" while she was talking to the man she "thought was James Vance," thus making Vance the only person who must be eliminated as a suspect in clubbing her!
At the time she testified, both Sally's husband, Ran'l and her son, James, were under indictment for murdering Jim Vance. Yet, the best the prosecution could get from her was the vague statement that she "thought" she saw "James Vance." However, she did not say whether she thought she saw the sixtyish James Vance, Senior, the man the feud story says was there, or James Vance Junior, who was the same age as the other raiders, and who was a near neighbor of Johnse and Cap Hatfield.
The fourth source is the critical one, because it is the only sworn testimony from someone who actually saw who struck Sally. Sally's grandson, Melvin McCoy, swore in the trial of Johnse Hatfield: "Johnse Hatfield struck her with a Winchester."
Anyone can go to the West Virginia history website and see several contemporary newspapers from the months after Vance was murdered.  Most call him simply Jim Vance, with an occasional reference to "Old" Jim Vance. None use the word, "Crazy." http://www.wvculture.org/history/hatfieldmccoyarticles.html
King's favorite source for his "facts," John Spears, refers to Vance more than a dozen times in his little forty-four page book. Spears, writing later in the year Vance died, calls him "Uncle Jim" every time.  Truda McCoy, writing what is recognized as the definitive McCoy version of events, calls him either "Jim" or "James," except for one time when she calls him "Uncle Jim."   Truda McCoy says that her main sources were Martha McCoy, wife of Randolph's son, Samuel, and Elsie Phillips Ford, the daughter of the man who murdered Vance.  McCoy's Jim Vance character,  mainly drawn from the daughter of the man who murdered Vance, was never called  "Crazy Jim."
Dean King, in spite of the documented evidence presented here, has dubbed the man "Crazy Jim."  Only time will tell if he has been successful in his gross distortion of the dead man's character.