In Hatfield Country–Blackberry Creek in the 1880s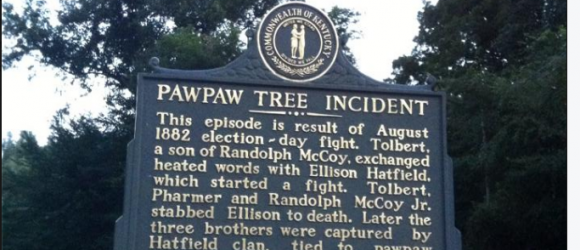 The "Paw-paw tree incident" was not part of an ongoing feud, as the feud books claim. There had been no violence between the two families before August 7, 1882. Jim McCoy, under oath in Johnse Hatfield's trial, testified that the trouble began "at the 1882 election."
The Paw-paw incident was a classic lynching, of which there were hundreds involving white victims during the last third of the 19th century. The extra-legal punishment of someone who is suspected of committing a crime is the very definition of lynching. According to the Tuskeegee Institute, there were 64 white men lynched in 1882. No one knows anything about the other 61.
That is one of the few feud-related historical markers that does not say anything that is false, by the records. The three McCoys were killed (it was a lynching), as the sign says, "In retaliation." They were not killed because they were McCoys. They were killed in retaliation for the killing of Ellison Hatfield. Had their names been Smith or Jones–or even Hatfield–Devil Anse would have done the same thing.
Most folks I talk to who have read feud books think that the McCoys picked out Ellison because he was a Hatfield. This is another of many places where the feud writers would have benefited greatly from a study of the 1880 Census. The reality is that if Tolbert had picked a man at random to stab, the odds are overwhelming that his victim would have either been a man named Hatfield, or a man who was married to a Hatfield. At least 90% of Main Blackberry was owned by such a person. Here is a page from the 1880 Census for Blackberry Creek.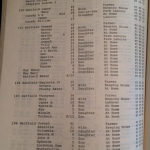 There were four election officers at that election, all of whom were Hatfields. There were two justices of the peace there–both of them Hatfields. There was a Constable present, who was also a Hatfield.
The feud books tell folks that Pike County, Kentucky was "McCoy country," but that is not true for Blackberry Creek, where the 1882 events occurred. In fact, there were not enough McCoys in that district to supply the fictional "Six McCoys" on the fictional hog-trial jury, unless two of Ran'l McCoy's sons and his brother, James were allowed to serve.
The record shows that Tolbert McCoy was a troubled young man, who had a grudge against Johnse Hatfield, based either on arguments about the sale of moonshine in Pike County, or Johnse's mistreatment of his sister, or both. He also had a beef with Devil Anse because Anse had forced Tolbert to give up Johnse as Tolbert was taking Johnse to jail. Tolbert testified that Anse cursed and humiliated him, but there was no gun play and no one was injured. Neither Johnse Hatfield nor his father, Anse, was present at that election in 1882.
I think it is a stretch to say that Tolbert started trouble with Bad Elias and later Ellison because of a personal grudge against another Hatfield. I think that Tolbert, a bitter young man with no real prospects for a future, got drunk and became aggressive.
The influence of White Lightning in the "Feud" events cannot be overstated. The McCoys were drunk at the 1882 election, and the Hatfields were drunk at the 1888 house-burning raid. Cap Hatfield had been drinking all day when he and his stepson killed three men in Matewan in 1896. Anse's sons, Elias and Troy were both killed in 1911 in a dispute over liquor distribution. Son Willis was drunk when he killed a doctor in Welch in 1912, because the doctor refused to write him a prescription for medicinal liquor. Devil Anse made whiskey for decades, with Johnse his chief distributor for many years. Anse stood trial in Charleston for moon-shining in 1889, and was acquitted.
Tolbert McCoy was surrounded by Hatfields at the 1882 election; Blackberry Creek was Hatfield country. An election on Blackberry Creek in that decade was little more than a Hatfield family reunion. You can see the grave of Ellison's great grandfather, Eph of ALL from the spot where Ellison was stabbed and shot.