Ol' Ran'l McCoy When he was OLD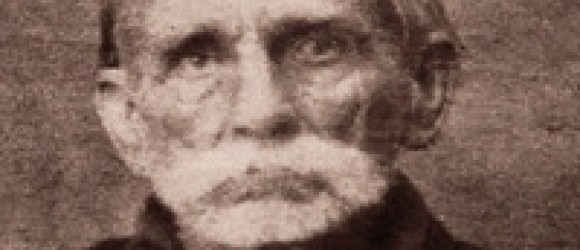 Ran'l McCoy was 64 years old when Ellison Mounts was hanged in February, 1890. He lived another twenty-four years, but most of the feud writers cover that quarter century in a paragraph or less. None of the writers has a single word about one of the most significant phases of Ran'l's life—his 1899 marriage to an eighteen-year-old girl, the child of that marriage and the bitter divorce that ended the marriage. Also missing is his testimony in the 1899 murder trial of Johnse Hatfield.
Some feud writers, such as Lisa Alter, do not claim to have done any real research. Alther makes it clear that she simply read several feud books, chose the juiciest parts and reorganized them. Others claim extensive research. Otis Rice said that he had the assistance of two paid graduate assistants in his 'research.' Dean King claims to have done four years of extensive research.
Either both Rice and King lied, or they were simply incapable of doing historical research. Anyone researching in the Kentucky Archives would, very early on, look at the index of civil cases for Pike County. Anyone looking at the cases with a McCoy plaintiff, would surely have seen three cases styled Hattie McCoy vs Randolph McCoy. It is obvious that the 'researchers' never looked.
On this page of the Index of Pike County Circuit Court cases, we see the three cases.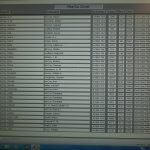 After reading those three cases, a serious researcher would have followed with a look at the records in the pike County courthouse, where they would have found the marriage documents.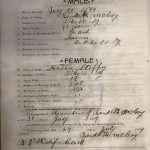 The seventy-three-year-old Ran'l McCoy married Hattie Steffey, aged 18, on July 30, 1899.
The first of three divorce suits was filed by Hattie the following year. The Census for that year shows that Ran'l is married, but separated, living in the home of Circuit Court Clerk G.W Pinson as a boarder.
That case did not proceed, and the couple obviously reconciled, because a daughter, Ellen, was born to the couple in April of 1901. Here is the death certificate of Ellen, who lived until 1970.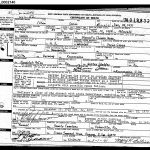 Although she lived with her husband, Irvin Gross, in Oceana, West Virginia, she was brought home to Pikeville and buried in the Johnson cemetery near there.
Hattie sued Ran'l for divorce again in 1902, and that case was also dropped. Then, in 1905, the third time was a charm.
Hattie said that Ran'l "was so ill and cross and contrary that she had no peace and happiness whatsoever." She further stated that "his treatment toward her was so cruel and inhuman and his temper so outrageous that it indicated that he had a settled aversion to her."
All the feud writers say that Ran'l was "the leader of the McCoy clan." Of course they cannot cite a single time when Ran'l McCoy ever led anyone anywhere, and they do not have the benefit of knowing anything about his marriage and divorce. If they saw the record showing that Ran'l's son, Sam, and his cousin Tom appeared in that case as witnesses against Randolph, they would know that Ran'l McCoy was not a clan leader.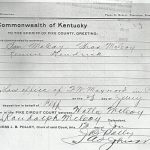 The same year that Ran'l married Hattie, he testified in the trial of Johnse Hatfield, who was charged with killing Ran'l's daughter Alifair during the New Year's 1888 raid on the McCoy home. The transcript of that trial, which is available from the KDLA on microfilm, is the best source for facts about the house-burning raid. It proves that much, if not most of what is written in the feud books about that raid is fiction.
Dean King made the charge that Jim Vance was the one who struck Sally McCoy during the raid, writing: "Crazy Jim swung the gun butt at her breaking two of her ribs and knocking her flat."Mr. King does not tell us how, in those pre-x-ray days, he knew how many ribs were broken. The only eye witness who ever testified on that point was Ran'l's grandson, Melvin McCoy. In the transcript the prosecutor asked Melvin who struck his grandmother, and he answered, "Johnse Hatfield struck her with a Winchester."
Asked by the prosecutor to name the men in the raiding party, Ran'l named three of the young raiders, all of them about forty years younger than Ran'l. But he did not name Jim Vance, a man his own age whom he had known for at least thirty-four years, and who the feud writers say was the leader of the gang. Jim Vance, who was never accused of any crime in his life, was first named as a member of that gang almost a month later. And the claim was made by men who were charged with Vance's murder!
Mr. King wrote that Ran'l escaped to the hog pen, and spent the night among the swine, while his family laid on the frozen ground all night. In his sworn testimony, Ran'l said that he ran from the house "to the creek"—not to the hog pen. Asked where he spent the remainder of the night, Ran'l said: "At John Scott's house."
Feud yarn-spinners not only libel the main feud characters, they also destroy the character of everyone who is tangentially involved in the story. Mr. King would have his readers believe that the John Scott family, who lived only a few hundred yards from the McCoys, heard a lengthy gun battle, featuring high-powered rifles and shotguns, saw their neighbor's house go up in flames, and did not even go to check on them until the next day. In fact, as Ran'l swore under oath, his neighbors took them in and gave them shelter.
Feud books written before my 2013 book were devoid of real historical research, with the lone exception of the book by Altina Waller. Professor Waller did serious research, but she barely scratched the surface, finding none of the Kentucky records referred to here.
Ran'l McCoy was a troubled man, who was the opposite of a clan leader. He was, in fact, shunned by his own McCoy kin, as I prove conclusively in my book, "The Missing McCoys."