The History Channel is also FAKE NEWS!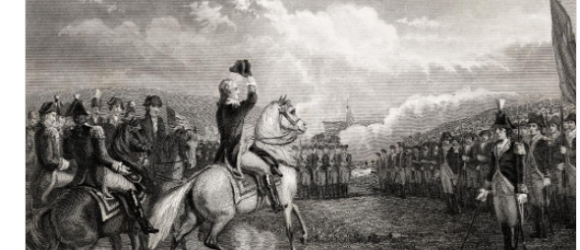 We have not yet lost our country, but we have definitely lost our history. Many American colleges allow students to get degrees in history without ever taking a single course in American History. Some of those grads are undoubtedly working for the History Channel. This being the anniversary of he last day of the Battle of Gettysburg, the History Channel tweeted about it.
They showed a painting of George Washington taking command of the Continental Army in their tweet about Gettysburg.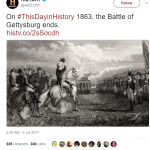 Some genius probably did a search for the date of July 3, and came up with Old George on a white stallion, because he actually took command on July 3, 1775.
In their article on the 'history' of the Hatfields and McCoys, History Channel says: " Their cause was taken up by Perry Cline, an attorney who was married to Martha McCoy, the widow of Randolph's brother Asa Harmon." The widow of Asa Harmon was Martha CLINE McCoy, sister of Perry Cline. The History channel tell us that Perry Cline married his sister! http://www.history.com/…/h…/articles/the-hatfield-mccoy-feud