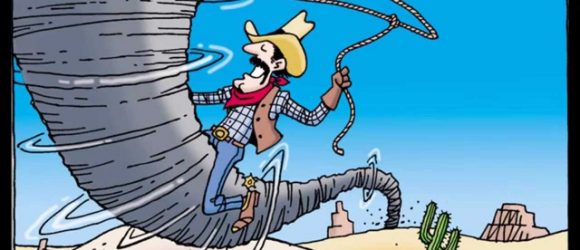 Let's have some fun! In my book, "The Hatfield and McCoy Feud after Kevin Kostner: Rescuing History," I wrote: "Readers of The Tale of the Devil who are sufficiently astute to doubt that Paul Bunyan picked his teeth with saw-logs and Pecos Bill rode around atop a tornado recognize right away that the tale of a scrawny fifteen year old Devil Anse kicking a huge bear in the ass and driving it up a tree is not historical fact."
I know most readers thought that was in jest, but it was serious as a heart attack. Some people, especially those who are recognized by the feud industry as "Feud historians," actually do believe tales that are every bit as exaggerated as the tale of Pecos Bill.
In 1923, Edward O' Reilly, in his "Saga Pecos Bill," wrote: "About fifty miles further on, a big old mountain-lion jumped off a cliff and lit all spraddled out on Bill's neck. This was no ordinary lion. It weighed more than three steers and a yearlin. Kind of chucklin' to himself, Bill laid down his saddle and his snake and went into action. In a minute the fur was flyin' down the canyon until it darkened the sun.
The way Bill knocked the animosity out of that lion was a shame. In about three minutes that lion hollered: "I'll give up, Bill. Can't you take a joke?"
Bill let him up, and then he cinched the saddle on him and went down that canon whoopin' and yellin', ridin' that lion a hundred feet at a jump, and quirtin' him down the flank with the rattlesnake."
A lion that weighs as much as three steers and a yearling is expected in a Pecos Bill yarn, but it has nothing on some of the stuff in "True Eyewitness" accounts of the Hatfields and the McCoys.
In September of last month, a man who is recognized as a "feud historian" by the feud industry gave an hour and a half presentation on the feud.  It is available on Youtube: https://youtu.be/HKhyWkszmLA
Starting about the half-hour mark, he gives his account of the central event of the feud, the killing of Ellison Hatfield on August 7, 1882. He obviously realizes that his tale is not really accurate, so he give s a source, saying "I prefer Big Sam McCoy's version."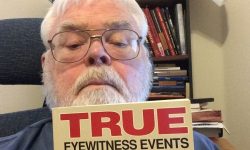 Click graphics to expand.
On page A-23 of "True Stories of the Hatfields & McCoys, as told by "Big Sam McCoy," We see a photograph of ears of corn that are twice as big as a man, grown in Estill County, Kentucky. A hog that fed on the giant corn is shown in a wagon, and is bigger than three of the horses shown, plus a yearling. The caption says that the cobs were used to build cabins. The writer does not explain why the men and the horses shown in the photo, undoubtedly fed the same corn, are of normal size for the equine and homo sapiens species.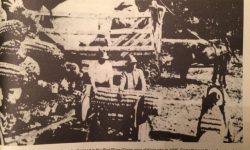 Another photo that equals anything in the Pecos Bill yarn appears on that same page, showing potatoes that are several times as large as a man, claimed to have been raised in the Red River Gorge area of Eastern Kentucky. Such a spud would easily weigh 500 pounds. Guinness says that the world record potato weighed a little over eight pounds. The photo's caption outdoes Pecos Bill, saying that the potato bugs that infested the giant spuds were so big that they carried off children.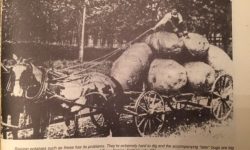 This 'historian' accepts the yarn of Big Sam as gospel, citing the book that has the giant potatoes and corn. And he is taken seriously!
Growing up on Blackberry Creek in the 1940's and 1950's, I heard people who were there  and had no dog in the fight, tell what happened at the 1882 election. The tale from Squirrel Huntin' Sam, who had every reason to slant the story in favor of his uncle and cousins, varied greatly from the accounts of people who were not close to either side of that fight, and who saw it up close and personal. Big Sam McCoy was not even at the scene, but our "historian" says he has the real facts.
We hear in the video that Tolbert McCoy had a "Little penknife," with a blade only two inches long. Truda McCoy, writing the generally accepted McCoy version of the feud, wrote: "Releasing one hand and reaching back into his pocket, he (Tolbert McCoy) he pulled out the knife that he had sharpened the day before. It had a LONG slender blade, razor sharp. (caps mine) Reaching backward, he cut time and again into Ellison's stomach and bowels." (p. 74, Truda McCoy, "The McCoys")
Uncle Jake Blackburn was a teenager at that time. Married to a McCoy, he had no reason to slant the story toward the Hatfields. Uncle Jake said: "Ellison's chitlins' wuz in his hands."
Pricy Scott, a teenager who sold baked goods at that election told me that Ellison's bowels were hanging out, and that he tried to put them back in until he passed out from blood loss.
Everyone who was there described Tolbert's knife as "A BIG pocket knife." The word "penknife" was not used on Blackberry Creek until many decades after that election fight.
The knife is changed in this yarn from what it was in Truda McCoy's book and what it was in the memory of eyewitnesses, for the purpose of conveying to the audience that the three McCoys just happened to get into a fight that was totally unexpected, and resorted to the only weapon they had—a tiny penknife. In fact, the large knife that Tolbert McCoy used to disembowel Ellison Hatfield was in Tolbert's pocket that day precisely because he expected to need it. Truda McCoy wrote that, after being warned by a brother to be prepared for trouble at the election the next day, "The McCoys spent the evening before the election cleaning guns that were already clean and sharpening knives that were already sharp. Tolbert McCoy…sat on the stoop outside his house, cleaning and sharpening." (p. 70)
Tolbert McCoy and his brothers were loaded for bear that day, and they had a lot more than a two-inch penknife with them.
(This narrator irritates me with his mispronunciation of the name of Tolbert McCoy. The first syllable in Tolbert rhymes with "doll," not "toll.")
I can't stop without mentioning my favorite photo from Sam McCoy's "True Stories." On page A-22, we see a photo of a "hoop snake."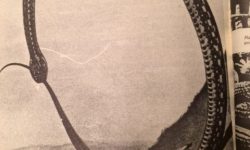 The caption says: "Early Kentuckians lived in fear of the dreaded 'hoop snake.' The reptile could take its tail in its mouth and roll along roads and down hills as it searched for victims. The snake struck with the deadly poisonous spike in its tail. The poison was said to be so toxic that if the snake accidentally spiked a tree, the tree would die."
This is a dead give-away that whoever concocted the Sam McCoy tale had read O'Reilly's "Saga or Pecos Bill," because that is the earliest appearance of the mythological hoop snake in American literature.
Squirrel Huntin' Sam's book is every bit as preposterous as is Pecos Bill book, but, to the leading local "historian' of the Hatfields and the McCoys, the outrageous yarn is history.