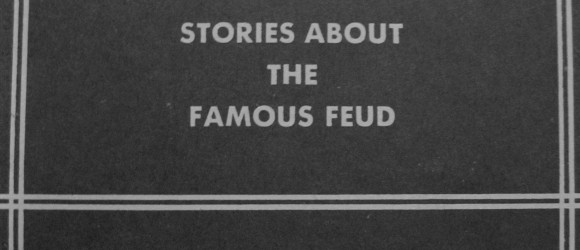 Clarence Shirley Donnelly was a Baptist preacher for sixty-three years, and a newspaper reporter for about half that long.  Whether either of those vocations supports his credibility as a feud historian is up to the reader to decide. He officiated at over two thousand funerals and over a thousand weddings.  He also wrote about twenty little books, most of them on religious subjects.  And, for some unfathomable reason, he preferred to be known by his middle name.
Donnelly visited Blackberry Creek in the dead of winter to "research" the Hatfield and McCoy feud.  I saw a West Virginia car at my Uncle Ransom Hatfield's house in Februrary, 1955, when I delivered his paper.  When I inquired of Ransom the next day about his visitor, he got a big laugh out of telling me that he had been talking to "a man named Shirley."
This story can be read in my book, "Lies, Damned Lies, and Feud Tales."  https://tinyurl.com/ycqlg3oy
[i] Donnelly slightly misstates the quote, which was, " Tolb, Election Day ain't no day to settle a debt."  The other two quotes Ransom gave the writers were what his father related that was said at the beginning of the Election Day fight. Tolbert McCoy said, "I'm Hell on earth,' and Elliosn Hatfield answered, "You're a damn shit-hog."
[ii] Robert C Byrd, later a long-time Senator, was both a state klan leader and the adult class Sunday School teacher in Donnelly's church.
[iii] Donnelly, Shirley, The Hatfield-McCoy Feud Reader, Foreword.
[iv] Donnelly, 7.
[v] Donnelly, 14.
[vi] Donnelly, 10.
[vii] Donnelly, 9.
[viii] Donnelly, 1.
[ix] McCoy, Samuel,  Squirrel Huntin' Sam McCoy: His Memoir and Family Tree, 27.
[x] Donnelly, 3.
[xi] Donnelly, 10.
[xii] ibid
[xiii] Donnelly, 11-12.
[xiv] Donnelly, 23.
[xv] Donnelly, 25.