The Documents and Photos
---
The public records, available in the courthouses in Pikeville and Logan and in the archives in Frankfort and Charleston, are anathema to the writers of feud fables.  The public record thoroughly demolishes the feud yarn in all its iterations, from Spears in 1888 to King in 2013.
The variance between the actual historical record and the feud fables is so great that many folks refuse to believe it unless they see the actual records. A citation is not enough. With that in mind, I have decided to collect the most important documents and photos used in the book and on the Blog here, making them available to all who wish to see the actual record. I do this with full knowledge that the feud liars will continue to disseminate their compilations of falsehoods as history; nevertheless, it is my hope that at least a few youngsters will see these records and become interested in real history as opposed to fable.
The 1882 Indictment for the murders of the three McCoys who had killed Ellison Hatfield.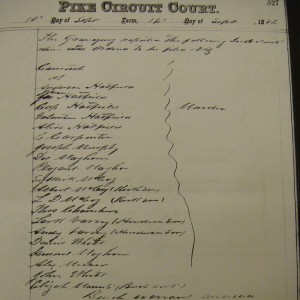 Warrant issued for Frank Phillips gang for the murder of Logan County Deputy William Dempsey. Note that one of the three persons swearing to the indictment was Nancy McCoy Hatfield, later married to Frank Phillips.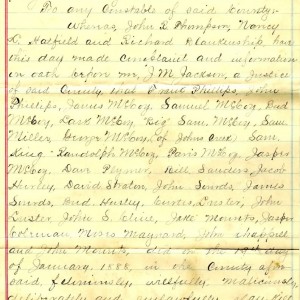 Selkirk McCoy at age 61. A Splendid soldier and gentleman–a REAL McCoy.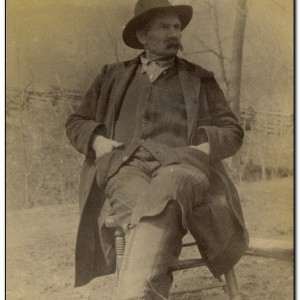 The 1880 Census shows a 98-year-old woman living in the household of Selkirk McCoy. She is Margaret "Peggy" Mounts, the sister of Rich Jake Cline, and therefore the aunt of Perry Cline.  Cline helped organizxe the Frank Phillips gang, which kidnapped Selkirk and took him to Pikeville, where he was falsely charged in the 1882 murder of his three cousins. After a year of trying, with the help of two who turned "state's evidence," the Pikeville crowd was unable to bring him to trial and had to release Selkirk for lack of evidence.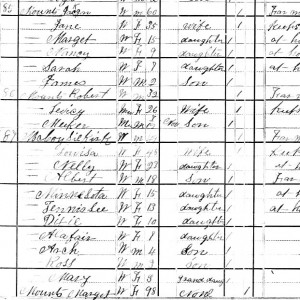 My Great, Great Uncle, Floyd Hatfield, who arrested the three McCoys who killed Ellison Hatfield on August 7, 1882. Wrongly depicted as "Hog Floyd" in books by Lisa Lather, Dean King and F. Keith Davis.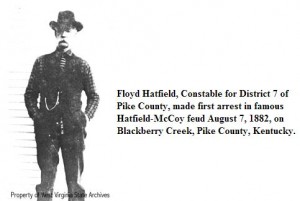 Floyd Hatfield, son of John and double first cousin to Devil Anse Hatfield, and family. Floyd was a tenant on land owned by my Great Grandfather, Uriah McCoy at the time of the infamous hog dispute with Randolph McCoy. A fine man who raised a fine family, this Floyd is disrespectfully referred to by many feud writers as "Hog Floyd."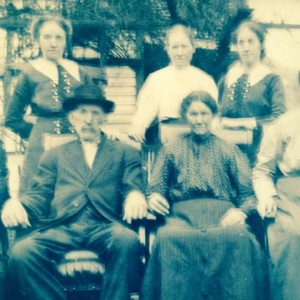 Photo owned by Faye Ray
America's number one "Feud story supersizer," Dean King, imparting his wisdumb to a crowd of his admirers, while standing in front of a fake photo of Asa Harmon McCoy.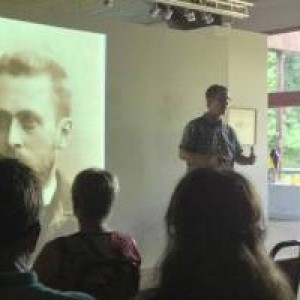 This is the faux Asa Harmon McCoy photo being shown in the photo of Dean King above. Sorry it is cropped at the top, hiding his snazzy crew-cut, which is visible in the photo above. Asa Harmon died in either late December, 1864 or early January, 1865, Maureen Taylor, one of America's premier photographic experts, dates the photo from twenty to twenty-five years after Asa Harmon McCoy died. Burt he is there with Mr. King, and also on page 37 of the massive compendium of legends and lies Mr. King peddles as the "True Story."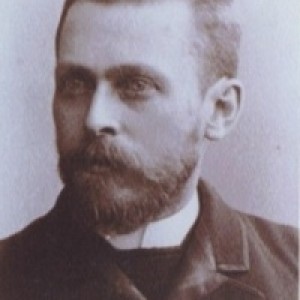 Click on this thumbnail to see what Maureen Taylor said about Mr. King's "Asa Harmon" photo. The "one on the left" was the Asa Harmon fake, and the "one on the right" was a photo of an unidentified man in similar attire.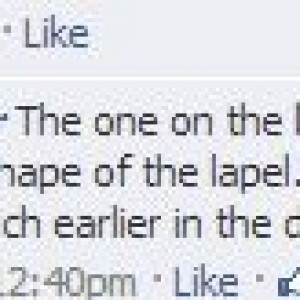 Here's Mr. King once more enlightening the public while showing them a fake photo of Randolph McCoy.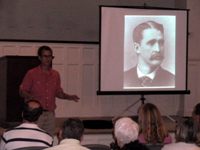 Here's the fake photo of Ol' Ran'l, which appears on page 22 of King's "True Story." Apologies again for cropping off Ran'l's ultra-modern hairstyle. You can see it in the photo above.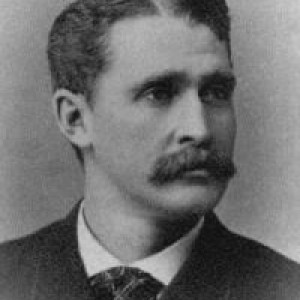 Click this thumbnail to see what Maureen Taylor, known nationally as "The photo-detective" says about the photo.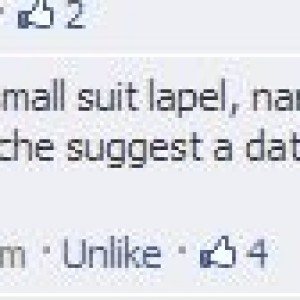 Ol' Ran'l would have been sixty-five in 1890, so, unless he found Ponce de Leon's fountain, that ain't Ol' Ran'l in King's book.
This is the home of my Great, Great Grandfather, Uriah McCoy. It is on Tug River at Stringtown, Kentucky.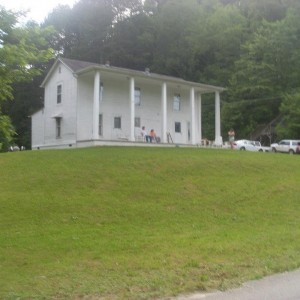 Dean King said in the first paragraph of his Preface that in 1890 my ancestors were "hunkered down in smoky cabins on the brink of stir-craziness–subsisting on razorback pork, venison, corn meal and bear grease." Grandpa Uriah died in 1889, but his surviving family members were definitely not hunkered down in a smoky cabin the following winter. They probably neve enjoyed any bear grease, either.  😀
This is the home of Preacher Anderson Hatfield, who was my Great Great Grandfather on both sides. My Grandpa McCoy's father, Asa, son of Uriah, married Nancy, daughter of Preacher Anse. The wedding occurred in 1875, back when the feud tales say that there was a blood feud underway between the Hatfields and the McCoys.  Preacher Anse wasn't hunkered down in a smoky cabin, slurping up bear grease in 1890, either.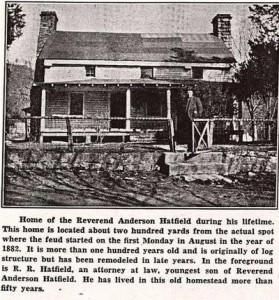 Uncle Ransom Hatfield, shown in this photo, was on my newspaper route from 1952 to 1955. I learned about the feud that was and the feud that wasn't from him on the front porch you see in the photo above.
This is the Aly Farley home, located two houses up Blackberry Fork from the Ran'l McCoy home.  The Farleys weren't "hunkered down" in smoke with bear grease in 1890, either.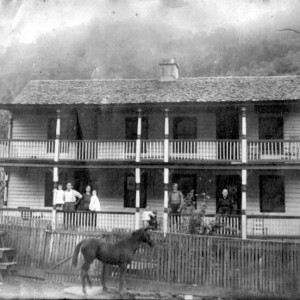 Aly and his son, John B., were the first to reach the McCoy home on the morning after the New Year's 1888 raid. Aly's daughter, Pricy Farley Scott, was born in 1869 and lived until the late 1960's. Pricy told me about the raid and the aftermath. She described the wounds of Calvin and Alifair, and told me some of the "few words" my Great, Great Grandfather, Preacher Anse said over the graves at the burial.
This is Theron C. Crawford, reporter for the New York World. Next to Crawford is the light bulb that he invented. The third photo is the feud story that he invented, which bears little resemblance to actual history.
This is Devil John Wright, from Letcher County, Kentucky. The biographers of his associate, John Mayo, said that, after the Civil War ended,  Wright killed twenty-eight men, and almost replaced them by fathering twenty-seven children. His son, Chid Wright, said in his biography  of his father that Devil John only killed sixteen men, and replaced them two-fold by fathering thirty-three children. Whether he killed sixteen or thirty-three or something in between, he is still not as famous as Devil Anse, who only killed three men after the War.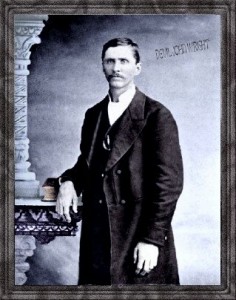 Devil John is left out of all the feud books, even though he was deeply involved in the feud's 'second phase' in 1887-8. West Virginia State Senator John Shepard, in his letter to Governor Simon B. Buckner, wrote that John Rite (sic) rode beside Bad Frank Phillips at the head of the Kentucky gang that invaded West Virginia. Shepard's claim is buttressed by the testimony of Johnse Hatfield and that of the man who turned state's evidence against Johnse in his 1899 trial for the murder of Alifair McCoy during the New Year's, 1888 raid. Both men testified that Devil John Wright led a gang into Logan County in September, 1888, only days after Governor Buckner announced the increased rewards on the Hatfields. Johnse testified that he and the other indicted Logan Countians "took to the hills," hiding from Devil John, who was "Trying to capture us people."
Devil John had his own feuds at various times, the most spectacular being against the Clabe Jones family. The Wrights and the Jonses sometimes passed each other in the night, on their way to raid the others' territory. Devil John and his pal, Bad Talt Hall, once killed four men in a gunfight in Floyd County, Kentucky.
This is Bad Lewis Hall, from Pike County, Kentucky. Bad Lewis killed at least twelve men, and claimed twenty-two when bragging about his "badness." Bad Lewis bit the dust in a shootout with a Pike County Constable at the age of eighty-three, in 1912. A son was killed along with Bad Lewis, as they resisted arrest on a bootlegging charge. Bad Lewis is not nearly as famous as his fellow Pike Countian, Ran'l McColy, who died at 88, two years after Bad Lewis.
This is a photo of the carnage resulting from a shoot-out between Bad Lewis Hall and his sons and a family named Steele, in Perryville, West Virginia, in 1891. The one in the middle is a son of Bad Lewis and the other two are Steeles.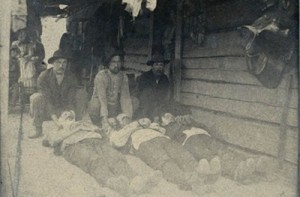 This photo is owned by the Kentucky Historical Society, which mis-identifies it as "three of the Hatfields." That is obviously wrong, because there never were three Hatfields slain at the same time. Dean King goes the Historical Society one better, captioning it "Tolbert, Pharmer and Bud McCoy, laid out for burial at their parents' house," on page 120 of his "True Story." What can I say, other than "Feud liars will lie."
This is Perry Cline, not long before he died of consumption (tuberculosis) at the age of forty-one.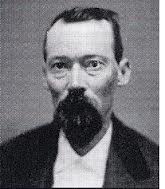 Every reader of feud stories knows that Cline was a lawyer, but only those who have read the book by the historian, Altina Waller, or the one I wrote know that he was elected sheriff of Pike County at the age of twenty-five. Only those who have read my book know that while he was serving as the elected sheriff, he was charged and tried and acquitted for voluntary manslaughter, as shown in this record.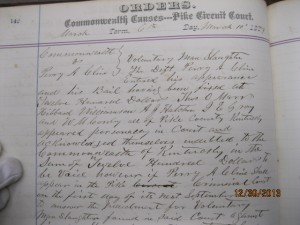 Of all the characters in the feud stories, ONLY Perry Cline was charged with killing a man between 1865 and 1880. Now, that's a feud trivia question no one who has not read my work will ever answer correctly!
The feud liars say that Jim Vance was the baddest of the bad. Dean King calls him "Crazy Jim," presenting him as a psychopath. Otis Rice said that he "had a reputation, even among his rough associates, for ruthlessness and vindictiveness."(p.14) This is in contrast to the actual record, which shows that, of all the major characters in the feud story, ONLY Jim Vance was never charged with a crime in his entire lifetime–not even a misdemeanor! He was elected as a Constable in Logan County, West Virginia in 1870, and appointed a deputy sheriff in Pike County, Kentucky in 1875. He was the only man thus honored in both states during the entire feud era.  In 1883, the justice of the peace in his district resigned and the Logan County Court appointed Jim Vance justice of the peace. "Crazy Jim?" Four men, neither of them related to Vance, signed twenty-five hundred dollar bonds, guaranteeing his faithful performance in office. Cognitive dissonance??
Here's the proof: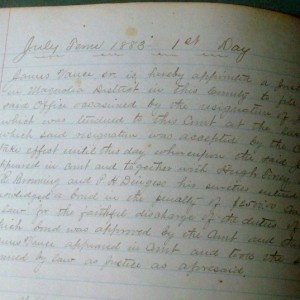 The feud liars say that Asa Harmon McCoy was so scared of the Rebels that he abandoned his home and family and crawled into a hole in the ground, where he was taken without a fight, and killed by Jim Vance. They make a liar out of Harmon's widow, who swore that he had re-enlisted and was on his way back to his regiment when he was "killed by Rebels." Here's the proof: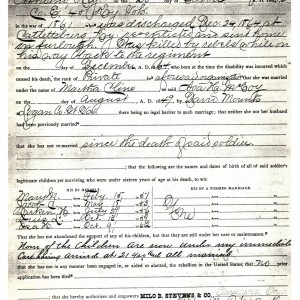 Several of the feud books claim that there were more than two dozen indictments against Johnse Hatfield at the time he was arrested by Tolbert McCoy. Some claim that they were all for liquor violations, and others say that some of the indictments were for moonshining. There was, in fact, only one indictment against Johnse Hatfield in Pike County in 1880. It was for "carrying concealed a deadly weapon." the record shows that he went directly to Pikeville after his father freed him from Tolbert's custody (probably taken there by Devil Anse) and stood trial on the charge, on October 14, 1880.
To believe the feud yarns, one has to believe that the Pike authorities had a man from another state in jail in Pikeville who had twenty-six unanswered indictments against him and let him leave the state after serving ten days on one of the charges. Preposterous! The record also proves that Devil Anse did not free Johnse in order to prevent him facing the charge against him.